UK Today News: JetBlue Airways Offers $10 One- Way Ticket On May 11 and 12 2010 Only
JetBlue: JetBlue Airways will be reportedly offering one-way tickets for $10 as part of their one decade celebration.
However, this sale is possible only on flights that depart in the United States on May 11 and 12. So people will need to make sure that they book the tickets online today.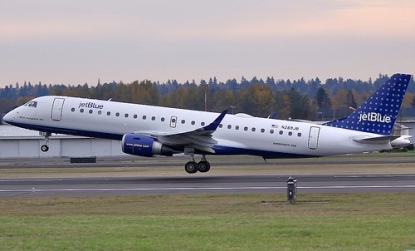 Reports also say that there are a few routes which are not available with this great $10 deal, which are as follows: (Jetblue.com)
Nantucket (ACK) to New York (JFK)
Aruba (AUA) to Boston (BOS)
Bermuda (BDA) to Boston (BOS)
Hartford (BDL) to Ft. Lauderdale (FLL)
Hartford (BDL) to Orlando (MCO)
Boston (BOS) to Washington, DC (DCA)
Boston (BOS) to Nassau (NAS)
Boston (BOS) to Oakland (OAK)
Boston (BOS) to Punta Cana (PUJ)
Boston (BOS) to Santo Domingo (SDQ)
Boston (BOS) to San Jose, CA (SJC)
Boston (BOS) to Sarasota (SRQ)
Boston (BOS) to St. Maarten (NAS)
Buffalo (BUR) to Ft. Myers (RSW)
Cancun (CUN) to Washington, DC (IAD)
Washington, DC (DCA) to Ft. Lauderdale (FLL)
Washington, DC (DCA) to Orlando (MCO)
New York (JFK) to Portland, OR (PDX)
New York (JFK) to St. Lucia (UVF)
The good news is that there are $10 flights from New York to Los Angeles, and from Boston to Las Vegas. (NY Times)
According to USA Today : "And, even though JetBlue says its sale applies only to U.S.-originating flight, a New York-Bogota round-trip (via Orlando) was pricing at $38 round-trip ($153.70 with taxes and fees) for a Tuesday-Wednesday itinerary."
Read more on Anytraveldeals.com