UK Today News: Miss USA 2010 Winner Photos – Miss Michigan 2010 Rima Fakih Crowned Miss USA 2010
Miss USA 2010 Winner, Miss Michigan 2010, Miss USA 2010 Photos, Rima Fakih Photos: The Miss USA 2010 Pageant took place today in Las Vegas, and 24 year old Miss Michigan Rima Fakih was crowned Miss USA 2010 at the end of the night.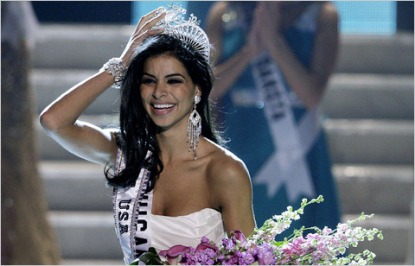 Rima Fakih is reportedly the first Arab American to win the Miss USA crown and she will now go on to represent USA at the Miss Universe 2010 pageant this year.
Rima Fakhih beat 50 other contestants to win the much coveted Miss USA 2010 crown.
According to MissUniverse.com: "Ms. Fakih, 24, is from Dearborn, Michigan where she was raised with her younger brother. She is a graduate of the University of Michigan, where she earned her Bachelor of Arts degree in Economics, with a minor in Business Administration. After completing her reign as MISS USA, she plans to attend law school. She enjoys traveling, running, dancing, kickboxing and especially likes playing football and watching the NFL."
The 59th Annual MISS USA Pageant took place at Planet Hollywood Resort & Casino in Las Vegas.
Check out Miss USA 2010 Rima Fakih's Photos Here: