UK Today News: Jennifer Lopez's Twins Max And Emme Model For Gucci

Jennifer Lopez's twins Max and Emme,2 , had their first big high-fashion modeling photo shoot, along with their hot mom, for Gucci's new children's collection this year. The photo shoot took place this summer in Malibu, California.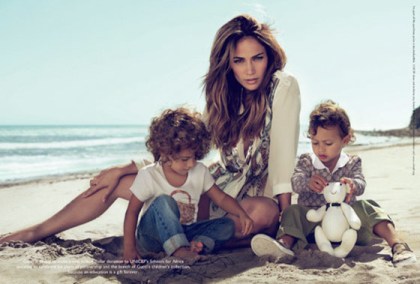 Jennifer Lopez and her twins (Photo: Gucci)
J Lo and her twins will be features as the faces of Gucci's new children's collection, which will comprise of shoes, clothes, and accessories for newborns to 8-year-olds.
Talking about her experience with Emme and Max, the "Waiting for Tonight" singer said, 'It's the first time I have worked with my kids in that way. It was a totally special experience.'
The 41-year-old mum added, 'I did a photo shoot when they were three weeks old, but now that they are two and a half, it's totally different.'
The new clothing line does have a 'social' element to it. Gucci stated in their website online, "Gucci is proud to make one million dollar donation to UNICEF's "Schools for Africa" initiative to celebrate six years of partnership and the launch of Gucci Children's Collection, because education is a gift forever."
The brand new Gucci range will be available in stores from November 20 onwards.