UK Today News: US Midterm Elections 2010 – Democratic Party To Lose Majority To Republicans, According To Opinion Polls

The US Congressional mid- term elections that are going to take place today, November 2, 2010, will see campaigning by candidates, to help increase their votes; come to an end. Voting for the US midterm elections 2010 is expected to begin at 0600 EDT on the East coast. It will end at 0000 EDT in Alaska.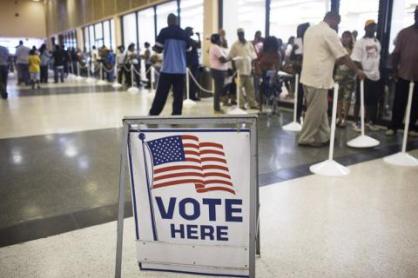 Photo Credit: AFP

Reports state that assumptions have already started making the rounds, with opinion polls suggesting that the President Obama's Democratic Party is more likely to lose its hold in the House of Representatives and it also seems to be finding it difficult in the Senate.
During the campaigning rally at Cleaveland, President Obama proclaimed, "This election is a choice between the policies that got us into this mess and the policies that are leading us out of this mess."
However, sources state that the Democratic Party believes that it will be on the higher side by at least one or two seats, as far as the Senate is concerned.
When it comes to the Republican Party, it needs to have 39 House seats to have control of the lower chamber of Congress and requires 10 seats to have control on the Senate. The opinion polls claim that they will have an easy win over the former.
Experts say that the Republicans are considered to be the front-runners in several opinion polls, thanks to the discontent among American voters over the high rate of unemployment and the fact that many people have lost their homes in the past year, as a result of slow economic growth in the country.