UK Today News: Katy Perry And Rihanna To Record A Duet Soon

Best friends Rihanna and newly-married Katy Perry are reportedly collaborating for the very first time on Rihanna's album, but it won't be 'Loud'.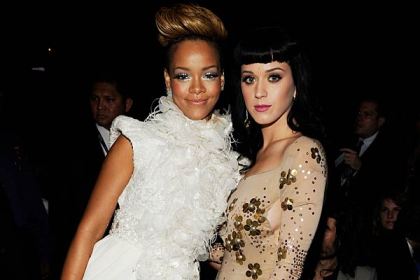 Photo Credit: Getty
Talking about the collaboration, Rihanna told MTV, "No, but we're actually working on some music together … hell yeah. I would love to tour with Katy. She's a rock star. And when I see her live, she just brings such a fun [vibe], like a colorful rock star. She has all these [props]. She has candy and fruit and a blown-up ChapStick onstage, but then she's rocking out with a guitar and banging her head and swinging onstage and crowd-surfing. That's the sh– that just makes you excited when you see her perform. She's beautiful, but then she rocks out."
The singer also informed that the recording with Perry for Loud has already begun, but this music is not going to launch on November 10, which the date of release of Rihanna's other album.
Rihanna also said that she cannot forgive herself for not attending Katy Perry's wedding to Russell Brand, which took place last year in India.