UK Today News: NYC Marathon 2010 – Chile miner Edison Pena to run at this year's New York marathon
Chilean Miner, Edison Pena, is all set to take part in the 2010 New York (NYC) Marathon, and when asked how he has been feeling recently, he stated that he was on top of the world. Edison Pena was one of the 33 miners who was stuck 700 meters below in the San Jose gold mine for around 70 days. Today, after he is back on the surface with huge smile, he is considered nothing less than a celebrity.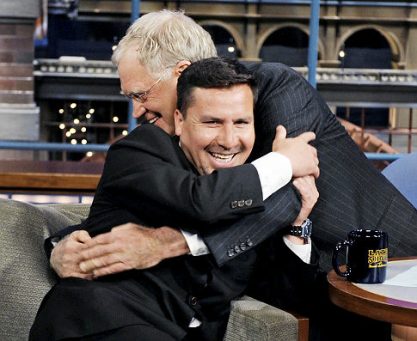 Photo Credit: (AP Photo/CBS, Jeffrey R. Staab)

Reports state that Pena is in America these days, and recently took a trip to the Empire State building, and he said that he felt very good being high above the ground and it is a completely different feeling. As he was on top of the Empire State, he was trying to find the end of Central Park, where the Marathon race ends. Pena, will be participating in the marathon race event which is scheduled to take place on the 7th November 2010.
Edison Pena is huge fan of Elvis Presley, and recently he was on the David Letterman Show, where he disclosed his liking for music. Pena has always thanked God, that he has been alive till this day, and that without the help of the other miners who were stuck with him, this would have not been possible. It is indeed a miracle for him to come out alive out of the mine, after spending 70 days, with limited resources to live, yes thats why these men are nick named as the 'miracle miners' of Chile.