UK Today News: Barack Obama at Hyderabad house to begin talks with Monmohan Singh

The President of the United States of America Barack Obama, who is in India on a three day tour, is heading towards the Hyderabad house to begin talks with India Prime minister Manmohan Singh.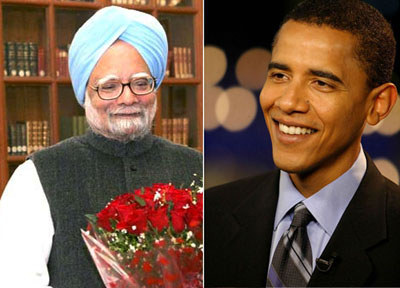 The discussion is related to many issues including some bilateral issues as well. Barack Obama left for Hyderabad house soon after a ceremonial reception at Rashtrapati Bhawan. The talks between them would be followed by some delegation-level talks.
The other Indian Ministers that will be attending are external affairs minister S M Krishna, Finance minister Pranab Mukherjee, Foreign secretary Nirupama Rao and National Security Adviser Shivshankar Menon. These ministers will be present for the restricted meeting and later on ministers like Sharad Pawar and A K Antony will be attending the delegation-level talks.
A lot of issues will be discussed by Obama which are related to terrorist issues and hopefully strong steps will be taken to stop further attacks and trouble.