UK Today News: Barack Obama trip to India – Now Obama moves to Delhi

Barack Obama trip to India has almost at its end and the three day tour in India has been very exciting. Michelle Obama danced with Indian students and Barack Obama has had a packed schedule in Mumbai has moved now to Delhi.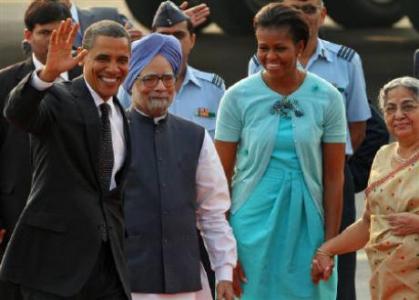 Barack Obama reached New Delhi and landed at the Indira Gandhi International Airport and Prime Minister Dr Manmohan Singh along with his wife Gursharan Kaur received them. They later on headed to Hotel Ashoka and dinner was hosted for them by Dr Manmohan Singh. No journalist except a few were allowed.
An official meeting will be held with Dr Manmohan Singh at the Hyderabad House and later Obama and Dr Manmohan Singh will address a joint press conference.
Obama will also later on address joint sessions at the Rajya Sabha and Lok Sabha, he will also meet some business tycoons and top politicians while he stays at Delhi.