UK Today News: 26/11 Mumbai terror attack – India pays homage to those killed on second anniversary of attacks

With Mumbai still recovering from the grief and injuries of the 26/11 attacks, the Indian city remembers the catastrophe created two years back today. It was this very day when 10 Pakistani gun men mercilessly shot at people killing 166 in all at the Hotel Tridant Oberoi, Hotel Taj Mahal Palace and the Chhatrapati Shivaji Terminus in the city of Mumbai.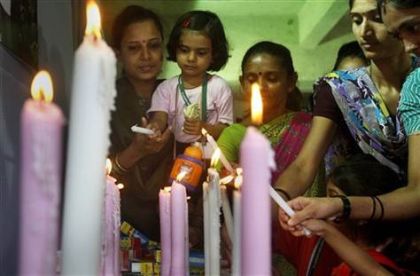 Photo: AP
Many meetings and gatherings have been organized throughout the city to mark the day and paid homage to those who were killed and to the brave people who sacrificed their lives for the sake of the nation. The Indian Prime Minister Manmohan Singh also remembered the day and promised the nation that the culprits shall not be spared.
The Force One and the Quick Response team, along with the Mumbai police paraded on Marine Drive to mark the occasion. Union Home Minister P Chidambaram reportedly paid Homage in Borivali East later, where he is likely to hand over a CNG station to one of the families of the people who were killed.
Though one gun man, Ajmal Kasab has been convicted of death penalty, the nation is still awaiting the moment when the terrorist will be hanged till death.