UK Today News: The Black Friday rush in NewYork creates Stampede

The Black Friday shopping on Friday created a chaos in a  store, when many shoppers whammed through the doors almost creating a stampede in North Buffalo of New York. The shoppers who were standing in the front were pushed by the crowd, when some of them fell on the floor.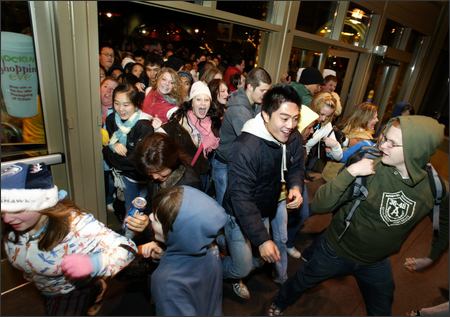 Many shoppers ran upon the shoppers who had fallen on the floor. The staff at the store had a tough time trying to control the crowd. One of the shoppers, Keith Krantz, who had fallen down, was pulled to safety by one of the staff members in the store. "At that moment I was thinking I don't want to die here on the ground," Keith said.
According to one of the shoppers, within five minutes of opening the door, the crowd in the store had become uncontrollable. "And then it just got nasty," he said. Many of the shoppers were also crossing the line which had angered other shoppers.
However spokeswoman Jessica Carlson of Target, assured that every time they plan for the safety of the shoppers before the Black Friday, and that the safety of the shoppers is always a priority for them.