UK Today News: The increase in University tuition fees in England has been opposed by six Scottish Liberal Democrat MPs, in the House of Commons. The government has won the vote with a low majority of 21.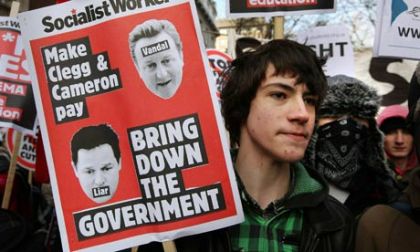 Photo Credit: Peter Macdiarmid/Getty Images

Former party leaders Charlie Kennedy and Sir Menzies Campbell were among those who had voted against the raising of fees to £ 9,000. Bute and Argyll MP Allen Reid as well as Edinburgh West MP Michael Crockart were among the others who voted against it.
Reports also state that Crockart had resigned as parliamentary private secretary to the Scottish secretary over the issue. The British government has said that the annual tuition fees for the English students would only apply in exceptional circumstances.
Currently, Scotland does not charge the students any fees, but there are chances of a fee charge if the Scottish Universities have to level with the English institutions. Students have been protesting against the fee hike on the streets of London, disrupting regular traffic. Britain's Royal couple were also in the midst of a mob attack when protesters attacked the car they were travelling in.