UK Today News: The sacred Holy Thorn tree of Glastonbury has been destroyed by vandals. Reports say that the tree was destroyed to take revenge against the land owner, after his company fell in debt of £ 16 million.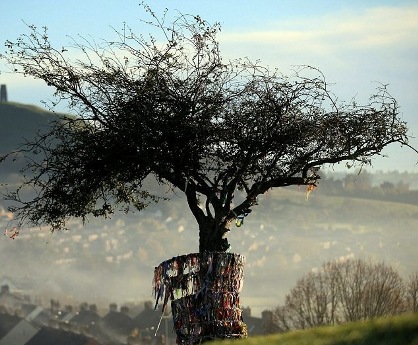 The Mayor of Glastonbury, John Coles said, "I'm so angry. It's mindless. Why do it? Whether someone has some sort of vendetta, I don't know."
The Holy Thorn was chopped off and what was left was just a 6 ft stump, which was protected by an iron cage. The tree, which was planted in 1952, is said to be related to the one planted from by Joseph of Aramathea, 2000 years ago. Pilgrims from around the world come to visit the site.
During the festive season, certain sprigs are traditionally cut and sent to the Queen for decorating the dining table every year. The land owner, Edward James aged 70, was arrested earlier this week, as the currency exchange firm that he had owned had collapsed.