The Bush House since the mo nth of March has been emptying gradually. The house has been emptying region by region and floor by floor by the language services. The move is finally complete and the building has become silent.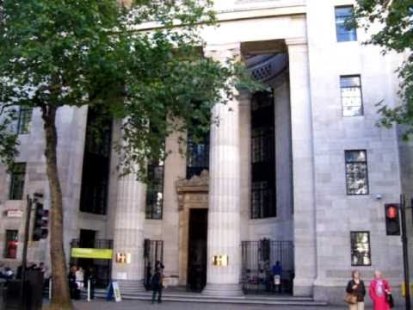 The last to leave was the central news room which was emptied on July 12, 2102, when the final 5 minute bulletin was read and the switch was complete. The seventy one years of constant broadcasting from Britain to the world from Bush House in Central London has come to an end.
The building was built at the behest of the American industrialist Irving T Bush the classical building was opened in the year 1925 and the construction of the building took £2million and made it most expensive building in the world.
The portico features two statues symbolising Britain and America with an inscription dedicated to the friendship of English speaking peoples.
In the year 1978 the Bulgarian Service Journalist Georgi Markov was fatally poisoned by a ricin tipped umbrella on his way to work at the building , in one of the Cold war's most notorious incidents in London. The furniture of the building including the chairs, and lockers is being auctioned off online.