Man thrown out of Olympic Arena for throwing bottle on track
Ashley Gill-Webb a 34 year old, vending machine operator and a father of two was on August 5, 2012 arrested on suspicion of throwing a bottle on to the track at the beginning of men's 100 meter final at the Olympics stadium. The police on August 6, 2012 confirmed that they have charged Gill and was also identified by the people in his home village of South Milford, near Leeds.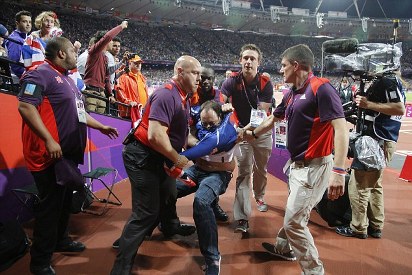 The man was bundled out by the security staff after he threw a bottle in the track but it fell short of the competitors just before Usain Bolt sprinted to victory in 9.63 seconds. Gill has been charged with intentionally causing harm or distress under section 5 of the Public Order Act.