Pakistani schoolgirl Malala Yousafzai, who was shot in the head by Taliban militia is still struggling for her life at a heavily guarded military hospital, and is currently still on a ventilator. The 14-year-old schoolgirl was campaigning for a right to an education when she was shot. Pakistani authorities have offered a reward for USD 100,000 for her attackers. The young Pakistani was shot in the head while travelling in a school bus on Tuesday because the Taliban were allegedly 'scared of the power of her vision'.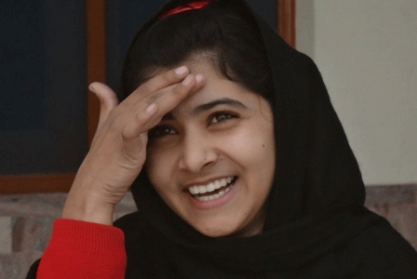 On October 12,2012, the Pakistani police mentioned that they had made several arrests in connection with the shooting but now militants have sent a statement reconfirming their intention of killing the girl or her father.
The Prime Minister of Pakistan Raja Pervez visited Malala's family after Friday prayers and learnt that the girls' condition will be considered to be critical for the next 48 hours. The military sent an update on Saturday stating that Malala's health condition is satisfactory and her vitals are ok; however, she would still be kept on the ventilator.
Two of Malala's friends were also wounded in the attack and were visited by the Prime Minister as well. Mr. Raja went on to say that Malala was the true face of Pakistan and her shooting was a crime against humanity and not an individual.
The attack is bringing the world and Pakistan together in condemning the Taliban.