Doctors at the Queen Elizabeth Hospital in Birmingham have run a series of tests on the brave Pakistani girl Malala Yousafzai on October 15, 2012; they hope to give an update on her condition by Tuesday. The young victim of the Taliban shooting in Pakistan, who was a campaigner for women's education in the country, had a bullet removed from her skull in Pakistan last week.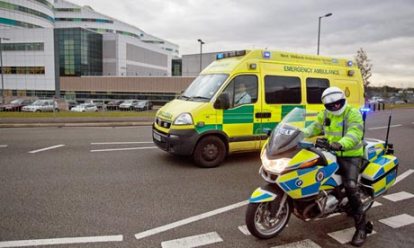 Dr David Rosser, who is the Hospital Medical Director at the Birmingham hospital said that there was a chance of a decent recovery for the girl, if not, she would not have been put through the move to the UK from Pakistan. It is believed that once Malala is out of danger, she will need to go through a long rehab procedure along with neurological help to heal the bones in her skull.
Malala was flown to the UK via the United Arab Emirates amid high security. The Taliban had vowed to target her again, and officials in Birmingham assured the media that they took security very seriously.
Dr Rosser, at the Queen Elizabeth Hospital went on to say that the institution was well equipped to handle Malala's case, as they have over 10 years of experience in treating UK military casualties.