Lord Heseltine has published a daring report pinpointing various issues with the governments' policies regarding a variety of issues. On Wednesday October 31, 2012, Heseltine is set to deliver a scathing critique of Whitehall for the lack of a state led industrial strategy, the government's view of immigration, as well as dismissing deregulation as the only path to growth.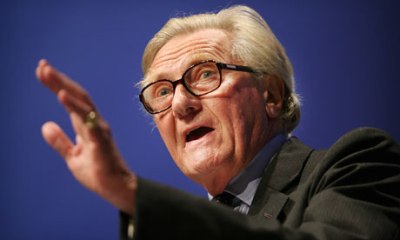 The former Conservative cabinet minister blasts the country's current growth strategy saying that the UK does not have a plan in place. He suggests that £58 billion of Whitehall's money should be sent to city based growth engines, driven by businesses and local councils.
Heseltine will cause a stir with the Tory right by suggesting that tax cuts are not the solution to problems in the UK's current investment climate, and that confidence needs to be brought into investments. He goes on to say that unless there is certainty about the UK's long term energy policy, the private sector should not invest in energy infrastructure.
According to reports, Heseltine has prepared the daring report in consultation with government ministers. However in order to highlight his independence, he briefed the business department only on Monday.
In closing the former minister said that people may take the report as criticism which would be the wrong approach. He encouraged the government to accept the findings confidently, rather than take it in negative spirit.