From November 1, 2012 onward, The Telegraph will adopt a metered approach for the international readers of its website. The Telegraph Media Group has launched a digital subscription packages for its international audience.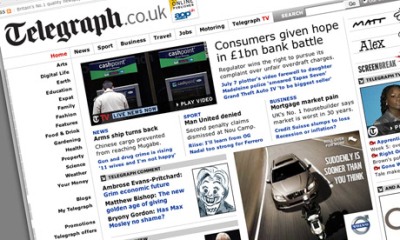 The newspaper's readers in UK will continue to enjoy unlimited access to the website for free. Once subscribed, international readers will be able to enjoy unlimited free access to the newspaper website. The subscribers will also be able to enjoy access to the work of award winning writers as well as the latest in sports, politics, business, entertainment, culture and more.
International readers who do not subscribe will only be able to access the Telegraphs website with limited access to 20 articles a month. The new Telegraph Web and Mobile pack offers unlimited access to the Daily Telegraph and Sunday Telegraph newspapers on the iPad.
With both packages, subscribers will be offered a one month free trial before they are asked to commit to a subscription. Edward Roussel, the executive digital editor said, "Telegraph writers include many of the world's finest journalists covering areas such as politics, international affairs, sport and business". Edward also said that there is a growing demand for first class journalism, and that the Telegraph already has a strong base of loyal readers in the UK.