After a fine showing with the bat, India made some early breakthroughs with the ball against England in the 1st Test of their 2012 tour of India, which started on November 15, 2012.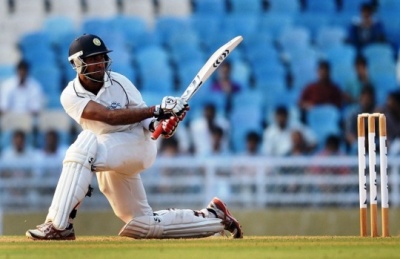 Virender Sehwag (117) and Cheteshwar Pujara (206) posted centuries early on in the first innings, with Pujara racking up his first international double. The Indians reached 521 and declared, putting England in late on day 2 of the first test in Motera, Ahmedabad. The hosts then proceeded to claim three early wickets putting England clearly on the defense with three days to go.
Captain Alistair Cook was still at the crease at the close of play on 22, while England were reduced to 41/3. Kevin Pietersen is currently with Cook at the crease as the England look to reconsolidate on day 3 of the match.
Graeme Swan was the star with the ball for England, taking 5 wickets for 144 runs in his 51 overs.
After the game, Pujara appeared full of confidence as he said that England's batting lineup looked fragile after they picked up three wickets with spin. England are back to facing problems with quality spin in India, a hurdle that has plagued them in the past as well.
Samit Patel however was throwing his weight behind his team saying that England had two world-class batsmen at the crease with a lot of batting to follow. The newcomer said that they have put in the hard yards and that they know what they are capable of.
Photo Credit: The Telegraph