Former England soccer captain and three-time football World Cup veteran David Beckham has announced that the Major League Soccer championship being held next month in the US would be his final game with the Los Angeles Galaxy. The star footballer was holding back what his future plans might be by saying that he was looking for 'one last challenge', according to a press release on November 19, 2012.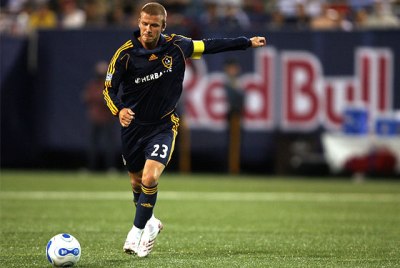 Photo Credit: Top Drawer Soccer
Beckham went on to say that he has had a great time playing for the LA Galaxy and has scheduled a news conference in LA on November 20, 2012. The Los Angeles club has had a measure of success with Beckham in their ranks, as the British mid-fielder is considered to be one of the best in the world and even led the US-based team to a championship win in the MLS Cup in 2011.
December 1, 2012 will see LA Galaxy go up against the Houston Dynamo in a repeat of the 2011 MLS Cup final, to be held at the Home Depot Centre. He has expressed interest in becoming a part-owner of his club, saying that he did not want his relationship with the league to end after his last game.
Beckham said that during his playing career he has seen the popularity of the game rise every year and that he has been fortunate enough to win trophies. However he said that the fantastic reception that he has received from his fans in the US was more important to him.
There has been talk that Beckham is being poached by clubs in Australia and across Europe, however what the football superstar's next move could be is anyone's guess.