England's cricketing vice-captain Stuart Broad is in doubt ahead of the second test match of their Indian tour. Broad is apparently down with a stomach problem and missed a practice session less than 24 hours before the teams duel it out in Mumbai's Wankhede stadium on November 23, 2012.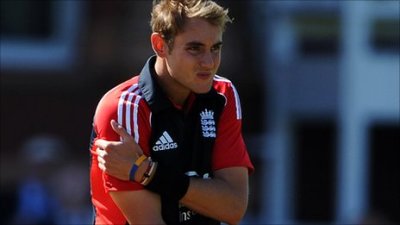 Photo Courtesy: BBC
A spokesperson for the team later brought to light the fact that Stuart's absence was only precautionary and that he wasn't seriously ill. Broad will play a big part in the opening hour of the match, as Wankhede can be a happy hunting ground for pace bowlers in the opening hour of the days play.
It appeared that England's 'think tank' was concerned about Broad, with team director Andy Flower having a lengthy discussion with Mustaq Ahmed, Graham Gooch, Alistair Cook and David Saker near the pitch. The main point of discussion could revolve around who to play in place of Broad if the seamer does not recover. Currently England can chose from Graham Onions, Stuart Meaker and Tim Bresnan.
Choosing one bowler out of the limited resources that England have will be tough. Meker offers better pace than his competition, but he is inexperienced. Bresnan did not do too well in the lifeless first test pitch in Ahmadabad and Onions did not fare any better in the warm up game either.
We will have to wait and see whether Broad recovers in time for the start of play as England's hope of squaring the series depends on it.