South African 'blade runner' Oscar Pistorius has attended the second day of his bail hearing in Pretoria on February 20, 2013. During the investigations the magistrate has questioned whether the 26-year-old athlete was motivated to jump bail and flee the country if the investigation becomes more intense.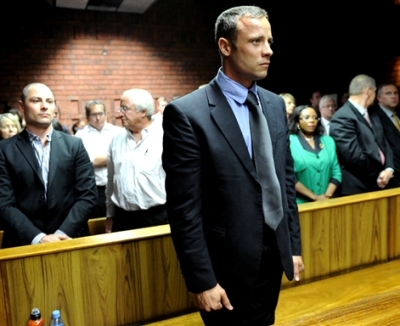 Oscar Pistorius has been charged with murdering his girlfriend Reeva Steenkamp, the funeral for whom took place on February 19, 2013 in Port Elizabeth. Francois Hougaard, who is a South African rugby player was also present at the funeral. He has been linked to sending the late model social networking messages before her tragic death, however, he has denied any involvement in the case.
During the Pistorius hearing, magistrate Desmond Nair said in regards to the athlete possibly jumping bail, "Do you subjectively believe that he (Oscar) would take the opportunity, being who he is, using prosthesics to get around, to flee South Africa?"
Hilton Botha, who is the investigating officer said that he did believe that Oscar could jump bail and make use of his finances to get around, much to the amusement of the court. Botha then replied that imprisonment is no joke, implying that people are capable of taking extreme steps when faced with tough situations.