Hamish Rutherford has written his name in the history books. The young New Zealand opener has smashed 171 runs on debut, putting England firmly on the back foot. Rutherford helped his side reach 402/7 as England trail by 235 runs in the first 2013 cricket Test match between the two countries in Dunedin.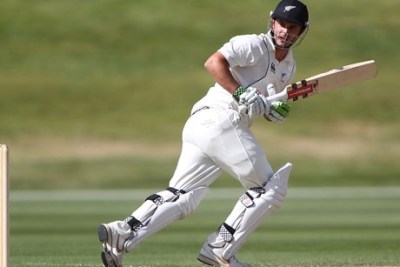 England put in a shabby performance with the bat in the first innings, with only Jonathan Trott reaching 45. The rest of the batsmen failed, including captain Alastair Cook. Wagner and Martin picked up four wickets a piece for the home side, to skittle the English for 167 runs.
When New Zealand came out to bat, it looked like the teams were playing at a different venue. Fulton and Rutherford put on a good first wicket partnership of 158, which almost eclipsed the entire English innings. Most of the other batsmen contributed to get the score up to 402, which seems unattainable at the moment. James Anderson picked up 4 wickets from his 29 overs and was the only bowler who managed to make a difference.
The day belonged to Rutherford though. The young opener played maturely and freely to put on his runs with ease. If this is a sign of things to come, New Zealand will be happy to have a solid batsman at the top of the order for the rest of the series.