The charity anthem 'We Are The World' — which was sung by Michael Jackson and others for Africa almost 25 years ago — has been re-made with new singers to support relief efforts in Haiti and will be released during the Olympics opening ceremonies today.
The star line up includes the original music producer Quincy Jones — who is one of the best music producers in the world — as well as singer/songwriter Lionel Richie together with a number of other singers including Celine Dion, Wyclef Jean, Justin Bieber, Lil Wayne, Miley Cyrus, Drake, T-Pain, Kanye West, Keri Hilson, Pink, Josh Groban, Mary J. Blige, Akon and Maroon 5's Adam Levine.
The late King of Pop Michael Jackson's voice is also included in the remake.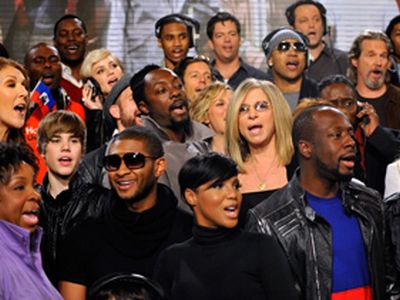 When 'We Are The World' was sung for the first time in 1985, it raised more than $30 million for food relief in Africa.
This year, the song is dedicated to Haiti after the devastating earthquakes that rocked the nation earlier this year. It's titled 'We Are The World 25 For Haiti."