TV star and actor Neil Patrick Harris will host the 87th Academy Awards in Los Angeles next year.
Neil Patrick Harris, the star of TV comedy series How I Met Your Mother, has been chosen to host the prestigious Academy Awards in its 87th year. The 41-year-old actor will take over from Ellen DeGeneres, who hosted the Oscars in 2014, which was also incidentally the most viewed ceremony in 14 years.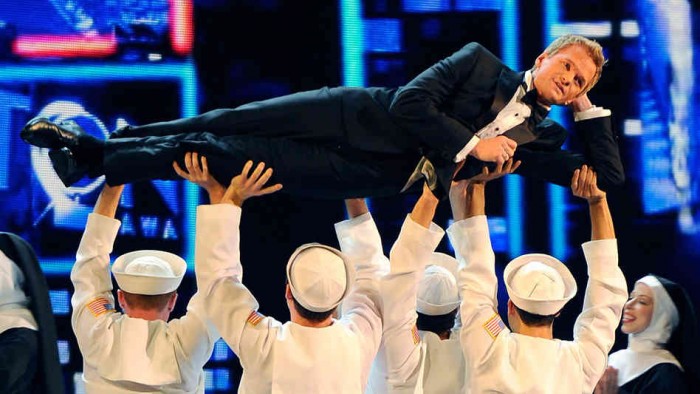 Harris announced the move by posting a video on Twitter, where he gets off the phone and says "I'm in!", then circles the words "Host the Oscars" on a bucket list.
The actor became popular as Doogie Howser MD in 1989. This isn't the first time that Harris will host a gala award ceremony, this year's Tony Awards saw the dapper lad host an enthralling Broadway style opening ceremony. 
"It is truly an honor and a thrill to be asked to host this year's Academy Awards. I grew up watching the Oscars and was always in such awe of some of the greats who hosted the show," stated Harris. "To be asked to follow in the footsteps of Johnny Carson, Billy Crystal, Ellen DeGeneres, and everyone else who had the great fortune of hosting is a bucket list dream come true," he added.
Cheryl Boone Isaacs, the president of The Academy of Motion Picture Arts and Sciences was all praise for the actor too, "He is the consummate entertainer. Neil's distinctive charm and showmanship make him the ideal host to honor the Oscar legacy and ensure we all enjoy another unforgettable celebration."
Harris seems to be having a great week, with the release of Gone Girl, where he is starring opposite Ben Affleck and Rosamund Pike. He has several Emmy and Golden Globe nominations and wins under his belt for his role as Barney Stinson (How I Met Your Mother) and has also won an Emmy for his guest-starring role on Glee in 2010. 
He was recently seen in the title role of Broadway act Hedwig and the Angry Inch, which fetched him the 2014 Tony Award for 'Best Actor in a Musical'. Harris also recently turned author for his autobiography Neil Patrick Harris: Choose Your Own Autobiography, which released under Crown Publishing on October 14, 2014.
The Oscars will take place at the Dolby Theatre at Hollywood & Highland Center in Hollywood, and will be televised live by the ABC Television Network on February 22, 2015. The awards presentation will be televised live in more than 225 countries and territories worldwide.
Photo Credits: franceftars.us