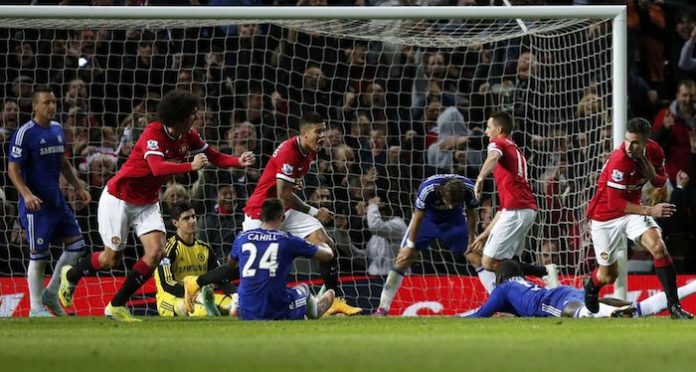 Manchester United's Robin Van Persie steals a draw with a 94th minute against Chelsea at Old Trafford.
Chelsea were having a great game yesterday against Manchester United until the 94th minute, when a goal from Robin Van Persie robbed them of a victory and settled the match at 1-1. The match was played in front of a packed Old Trafford audience, that were behind their team right till the last minute.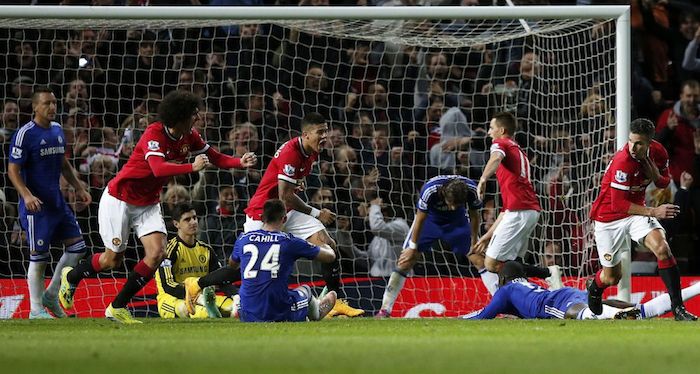 Chelsea were well on their way to increasing their lead at the number 1 spot in the Premier League, after a brilliant header by Chelsea star Didier Drogba. However, in the end it was the injury time goal by Persie that stunned the Blues and forced Chelsea to share the points. In a game that was filled with cards being shown, Branislav Ivanovic was shown his 2nd yellow in the 94th minute.
After the 52-minute goal by Drogba, Chelsea's manager Jose Mourinho brought on defensive midfielder John Obi Mikel and center back Kurt Zouma to hold onto his team's lead. However, that was not to be. After Ivanovic was sent off, United's Fellaini headed the ball towards the goal, but was his effort was swatted by Chelea goalkeeper Thibaut Courtois. Unfortunately for the Blues, the ball landed at Robin's feet, who drove it home.
With this draw, Chelsea move 4 clear of Southampton, who are in second place. Chelsea are currently on top of the table with 23 points, while Manchester United are in 8th place with 13 points.