A massive earthquake of 8.8 magnitude struck Chile early on Saturday shaking the capital city for a minute and half which set off a tsunami.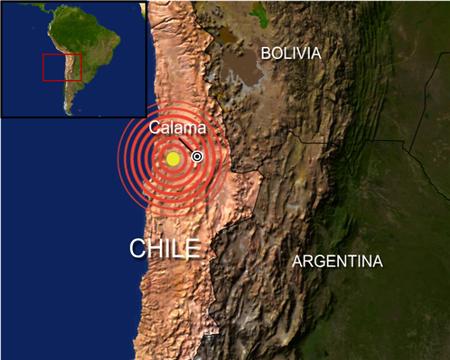 It made it difficult to determine the extend of the damage as Buildings shook and some collapsed and electricity and phone lines were down. The U.S. Geological Survey reported that the quake hit 325 kilometers southwest of the capital, Santiago, and at a depth of 35 kilometers at 3:34 a.m. (0634 GMT; 1:34 a.m. EST), the U.S., The epicenter was just 115 km from the 2nd largest capital city, Concepcion where 200,000 people live along the bio river, and it was felt 60 miles away from the ski town of Chillan – a gateway to Andean ski resorts that was destroyed in a 1939 earthquake. Argentina also felt tremors of the quake.
A tsunami was generated as indicated by the Sea level readings and also could have been a threat to a more distant coast. Even though the situation is continued to being monitored by the US west coast yet they are not expecting a tsunami along the its coast or even that of Canada.
Coincidentally on May 22, 1960 the same area recorded the largest earthquake ever which claimed the lives of 1,655 people and left around a 2 million homeless.
News has come in that a tsunami warning has been issued in Hawaii and as a result of the Hawaii tsunami warning, people on the coasts of Hawaii are being evacuated.
Check back here for more updates.