NAACP 2010 Image Awards Results
The NAACP 2010 Image Awards are now gone into the history books. The ceremony had some interesting moments with Wyclef Jean's Haiti opening number, Keke Palmer's marvelous acceptance speech, John Legend's performance with the Roots, the stunning beauty of show co-host Anika Noni Rose, Keke Palmer's amusing acceptance speech and so on.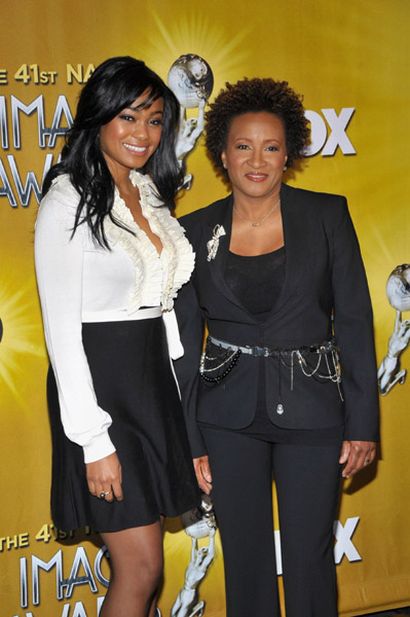 The 41st Annual event had some overwhelming visuals.

Here are the NAACP 2010 Results
"Tyler Perry's House of Payne" (TBS) for Outstanding Comedy Series
Cassi Davis, "Tyler Perry's House of Payne" (TBS) for Outstanding Actress in a Comedy Series
Daryl "Chill" Mitchell, "Brothers" (FOX) for Outstanding Actor in a Comedy Series
Lance Gross, "Tyler Perry's House of Payne" (TBS) for Outstanding Supporting Actor in a Comedy Series
Keshia Knight Pulliam, "Tyler Perry's House of Payne" (TBS) for Outstanding Supporting Actress in a Comedy Series
"Lincoln Heights" (ABC Family) for Outstanding Drama Series
Hill Harper, "CSI NY" (CBS) for Outstanding Actor in a Drama Series
Jada Pinkett Smith, "HawthoRNe" (TNT) for Outstanding Actress in a Drama Series
Delroy Lindo, "Law & Order Special Victims Unit" (NBC) for Outstanding Supporting Actor in a Drama Series
S. Epatha Merkerson, "Law & Order" (NBC) for Outstanding Supporting Actress in a Drama Series
"Gifted Hands" (TNT) for Outstanding Television Movie, Mini-Series or Dramatic Special
Cuba Gooding Jr., "Gifted Hands" (TNT) for Outstanding Actor in a Television Movie, Mini-Series or Dramatic Special
Kimberly Elise, "Gifted Hands" (TNT) for Outstanding Actress in a Television Movie, Mini-Series or Dramatic Special
Cornelius Smith Jr., "All My Children" (ABC) for Outstanding Actor in a Daytime Drama Series
Debbi Morgan, "All My Children" (ABC) for Outstanding Actress in a Daytime Drama Series
"The Inauguration of Barack Obama, 44th President of the United States" (BET) for Outstanding News/Information – (Series or Special)
"The Mo'Nique Show" (BET) for Outstanding Talk Series
"Extreme Makeover Home Edition" (ABC) for Outstanding Reality Series
"The Michael Jackson Memorial Celebrating the Life of Michael Jackson" (ABC, BET, CNN, MTV, NBC …) for Outstanding Variety – (Series or Special)
"Dora the Explorer" (Nickelodeon) for Outstanding Children's Program
Keke Palmer – "True Jackson, VP" (Nickelodeon) for Outstanding Performance in a Youth/Children's Program – (Series or Special)
Keri Hilson (Mosley Music Group/Zone 4, Inc./Interscope Records) for Outstanding New Artist
Maxwell (Columbia Records) Outstanding Male Artist
Mary J. Blige (Matriarch/Geffen) for Outstanding Female Artist
The Black Eyed Peas (Interscope Records) for Outstanding Duo, Group or Collaboration
"He and She" – Wynton Marsalis (Blue Note Records) for Outstanding Jazz Album
"Still" – BeBe & CeCe Winans (B & C Records) for Outstanding Gospel Album – (Traditional or Contemporary)
"Black President" – Sila and the Afrofunk Experience (Visila Records) Outstanding World Music Album
"I Look To You" – Whitney Houston (Arista Records) for Outstanding Music Video
"God In Me" – Mary Mary (Columbia Records)for Outstanding Song
"Stronger With Each Tear" – Mary J. Blige (Matriarch/Geffen) for Outstanding Album
"The Long Fall" – Walter Mosley (Riverhead Books) for Outstanding Literary Work – Fiction
"In Search of Our Roots How 19 Extraordinary African Americans Reclaimed Their Past" – Henry Louis Gates Jr. (Crown) for Outstanding Literary Work – Non-Fiction
"A Question of Freedom" – R. Dwayne Betts (Avery Books) for Outstanding Literary Work – Debut Author
"Michelle Obama" – Deborah Willis (W. W. Norton) for Outstanding Literary Work – Biography/Autobiography
"Act Like A Lady, Think Like A Man" – Steve Harvey (Amistad) for Outstanding Literary Work – Instructional
"Bicycles" – Nikki Giovanni (William Morrow)for Outstanding Literary Work – Poetry
"Our Children Can Soar A Celebration of Rosa, Barack, and the Pioneers of Change" – Michelle Cook (Author)(Bloomsbury Children's Books) for Outstanding Literary Work – Children
"Michelle Obama Meet the First Lady" – David Bergen Brophy (Collins – An Imprint of HarperCollins Children's Publishing) for Outstanding Literary Work – Youth/Teens
"Precious Based on the Novel "Push" by Sapphire" (Lionsgate) for Outstanding Motion Picture
Morgan Freeman – "Invictus" (Warner Bros. Pictures) for Outstanding Actor in a Motion Picture
"Precious Based on the Novel "Push" by Sapphire" (Lionsgate) for Outstanding Actress in a Motion Picture Gabourey Sidibe
Adam Rodriguez – "Tyler Perry's I Can Do Bad All By Myself" (Lionsgate) for Outstanding Supporting Actor in a Motion Picture
Mo'Nique – "Precious Based on the Novel "Push" by Sapphire" (Lionsgate) for Outstanding Supporting Actress in a Motion Picture
"Precious Based on the Novel "Push" by Sapphire" (Lionsgate) for Outstanding Independent Motion Picture
"The Stoning of Soraya M." (Mpower Pictures) for Outstanding Foreign Motion Picture
"Good Hair" (Roadside Attractions) for Outstanding Documentary (Theatrical or Television)
Halsted Sullivan and Warren Lieberstein – "The Office" – Café Disco (NBC) for Outstanding Writing in a Comedy Series
Shonda Rhimes – "Grey's Anatomy" – What a Difference A Day Makes (ABC) for Outstanding Writing in a Dramatic Series
Geoffrey Fletcher – "Precious Based on the Novel "Push" by Sapphire" (Lionsgate) for Outstanding Writing in a Motion Picture (Theatrical or Television)
Ken Whittingham – "30 Rock" – The Funcooker (NBC) for Outstanding Directing in a Comedy Series
Chandra Wilson – "Grey's Anatomy" – Give Peace a Chance (ABC) for Outstanding Directing in a Dramatic Series
Lee Daniels – "Precious Based on the Novel "Push" by Sapphire" (Lionsgate) for Outstanding Directing in a Motion Picture (Theatrical or Television)