The much awaited cricket event in India and across the world called the Indian Premier League or IPL 2010 which is in it's third season, will begin on Friday March 12th 2010 and will continue till April 25, 2010.
Cricket is the most loved sport in India and it will see fans from across the world glued to their TV sets to see the competition between their favorite teams. Not too forget the hot cheerleaders at IPL matches who cheer on the players on the side lines.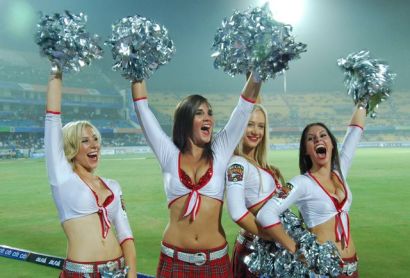 The Indian Premier League 2010 comprises of 8 Teams playing 60 Matches across stadiums in India.
Bengaluru will be hosting the two big semi-finals while the match for 3rd place as well as the Final match of IPL 2010 will take place at Navi Mumbai in Maharashtra.
The 8 IPL teams are : Mumbai Indians, Rajasthan Royals, Kolkota Knight riders, Deccan Chargers, Delhi Dare Devils, Chennai Super Kings, Bangalore Royal Challengers and Kings XI Punjab.
One of the favorite IPL T20 teams called the "Mumbai Indians" will be playing their first match against the "Rajasthan Royals" at hometown Mumbai on March 13, 2010.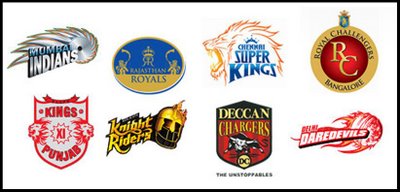 This is the IPL 2010 Time table and Schedule for this Season 3:
Sr. No. Day and Date (IST) Time IPL Teams Venue
1. March 12 20:00 Deccan Chargers vs Kolkata Knight Riders at venue DYP – Mumbai
2. March 13 15:00 Mumbai Indians vs Rajasthan Royals at venue Mumbai
3. March 13 20:00 Kings XI Punjab vs Delhi Daredevils at venue PCA – Mohali
4. March 14 16:00 Kolkata Knight Riders vs Bangalore Royal Challengers at venue Eden – Kolkata
5. March 14 20:00 Chennai Super Kings vs Deccan Chargers at venue MAC – Chennai
6. March 15 20:00 Rajasthan Royals vs Delhi Daredevils at Ahmedabad
7. March 16 16:00 Bangalore Royal Challengers vs Kings XI at Punjab MCS – Bangalore
8. March 16 20:00 Kolkata Knight Riders vs Chennai Super Kings at Eden – Kolkata
9. March 17 20:00 Delhi Daredevils vs Mumbai Indians at FSK – Delhi
10. March 18 20:00 Bangalore Royal Challengers vs Rajasthan Royals at MCS – Bangalore
11. March 19 16:00 Delhi Daredevils vs Chennai Super Kings at FSK – Delhi
12. March 19 20:00 Deccan Chargers vs Kings XI Punjab at Nagpur
13. March 20 16:00 Rajasthan Royals vs Kolkata Knight Riders at Ahmedabad
14. March 20 20:00 Mumbai Indians vs Bangalore Royal Challengers at Mumbai
15. March 21 16:00 Delhi Daredevils vs Deccan Chargers at Nagpur
16. March 21 20:00 Chennai Super Kings vs Kings XI Punjab at MAC – Chennai
17. March 22 20:00 Mumbai Indians vs Kolkata Knight Riders at Mumbai
18. March 23 20:00 Bangalore Royal Challengers vs Chennai Super Kings at MCS – Bangalore
19. March 24 20:00 Kings XI Punjab vs Rajasthan Royals at PCA – Mohali
20. March 25 20:00 Mumbai Indians vs Chennai Super Kings at Mumbai
21. March 26 20:00 Rajasthan Royals vs Deccan Chargers at Ahmedabad
22. March 27 16:00 Kings XI Punjab vs Kolkata Knight Riders at PCA – Mohali
23. March 27 20:00 Bangalore Royal Challengers vs Delhi Daredevils at MCS – Bangalore
24. March 28 16:00 Rajasthan Royals vs Chennai Super Kings at Ahmedabad
25. March 28 20:00 Deccan Chargers vs Mumbai Indians at Nagpur
26. March 29 20:00 Delhi Daredevils vs Kolkata Knight Riders at FSK – Delhi
27. March 30 20:00 Mumbai Indians vs Kings XI Punjab at Mumbai
28. March 31 16:00 Chennai Super Kings vs Bangalore Royal Challengers MAC – Chennai
29. March 31 20:00 Delhi Daredevils vs Rajasthan Royals FSK – Delhi
30. April 01 20:00 Kolkata Knight Riders vs Deccan Chargers Eden – Kolkata
31. April 02 20:00 Kings XI Punjab vs Bangalore Royal Challengers PCA – Mohali
32. April 03 16:00 Chennai Super Kings vs Rajasthan Royals MAC – Chennai
33. April 03 20:00 Mumbai Indians vs Deccan Chargers Mumbai
34. April 04 16:00 Kolkata Knight Riders vs Kings XI Punjab Eden – Kolkata
35. April 04 20:00 Delhi Daredevils vs Bangalore Royal Challengers FSK – Delhi
36. April 05 20:00 Deccan Chargers vs Rajasthan Royals DYP – Mumbai
37. April 06 20:00 Chennai Super Kings vs Mumbai Indians MAC – Chennai
38. April 07 16:00 Rajasthan Royals vs Kings XI Punjab SMS – Jaipur
39. April 07 20:00 Kolkata Knight Riders vs Delhi Daredevils Eden – Kolkata
40. April 08 20:00 Bangalore Royal Challengers vs Deccan Chargers MCS – Bangalore
41. April 09 20:00 Kings XI Punjab vs Mumbai Indians PCA – Mohali
42. April 10 16:00 Deccan Chargers vs Chennai Super Kings DYP – Mumbai
43. April 10 16:00 Bangalore Royal Challengers vs Kolkata Knight Riders MCS – Bangalore
44. April 11 16:00 Delhi Daredevils vs Kings XI Punjab FSK – Delhi
45. April 11 20:00 Rajasthan Royals vs Mumbai Indians SMS – Jaipur
46. April 12 20:00 Deccan Chargers vs Bangalore Royal Challengers DYP – Mumbai
47. April 13 16:00 Mumbai Indians vs Delhi Daredevils Mumbai
48. April 13 20:00 Chennai Super Kings vs Kolkata Knight Riders MAC – Chennai
49. April 14 20:00 Rajasthan Royals vs Bangalore Royal Challengers SMS – Jaipur
50. April 15 20:00 Chennai Super Kings vs Delhi Daredevils MAC – Chennai
51. April 16 20:00 Kings XI Punjab vs Deccan Chargers Dharmasala
52. April 17 16:00 Bangalore Royal Challengers vs Mumbai Indians MCS – Bangalore
53. April 17 20:00 Kolkata Knight Riders vs Rajasthan Royals Eden – Kolkata
54. April 18 16:00 Kings XI Punjab vs Chennai Super Kings Dharmasala
55. April 18 20:00 Delhi Daredevils vs Deccan Chargers FSK – Delhi
56. April 19 20:00 Kolkata Knight Riders vs Mumbai Indians Eden – Kolkata
57. April 21 20:00 1nd Semi-Final – Team 1 vs Team 2 MCS – Bangalore
58. April 22 20:00 2nd Semi-Final – Team 3 vs Team 4 MCS – Bangalore
59. April 24 20:00 Play-off for 3rd Place – Team A vs Team B DYP – Mumbai
60. April 25 20:00 Final of IPL 2010 – Team 1 vs Team 2 DYP – Mumbai