Jesse James has reportedly cheated on his Oscar winning wife Sandra Bullock with a tattoo model called Michelle Bombshell McGee. Sources say that this has led to Sandra Bullock pulling out of the premiere of her new movie The Blind Side in UK today.
Reports even say that actress Sandra Bullocks has moved out of the family home after being married to "Monster Garage" show's Jesse James for the past 5 years.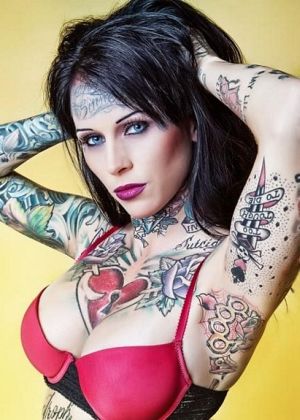 All this shocking news is enough to increase curiosity as to who is the lady responsible for the affair. The lady is tattoo model Michelle 'Bombshell' McGee.
She told a magazine that she and Jesse James had an affair for 11 months after Michelle 'Bombshell' McGee wanted her pictures to adorn his Monster Garage as their model.
If you have no idea how Jesse James' alleged mistress looks, then we have her pictures here.
Michelle 'Bombshell' McGee's pictures show the innumerable number of tattoos that she has on her body.
Check out some Michelle 'Bombshell' McGee pictures: