UK Today News: The Masters 2010 has begun and thanks to infamous golfer Tiger Woods, there is growing speculation of this year's Masters Golf tournament.
The Masters 2010 is much awaited and golf fans will be eagerly awaiting the unfolding of events live from the Augusta National Golf Course in Georgia.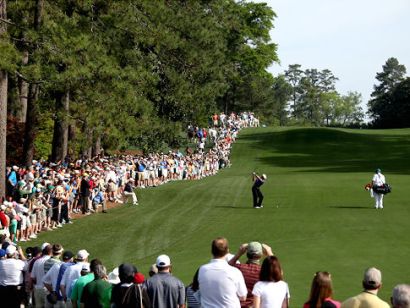 The Masters 2010 will be broadcasted live by ESPN and CBS in the USA, and the BBC in the UK. Reports say that BBC Radio in the UK and Sirius XM radio in the United States will cover the Masters 2010 tournament on radio.
Here are the Masters 2010 TV Schedule and radio schedule:
USA
Wednesday, April 7
ESPN – 3:00 PM – 5:00 PM ET
Sirius XM radio – 2:00 PM -7:30 PM ET
Thursday, April 8
ESPN – 4:00 PM – 7:30 PM ET
Sirius XM radio – 2:00 PM – 7:30 PM ET
Friday, April 9
ESPN – 4:30-7:30 PM ET
Sirius XM radio – 2:00 PM – 7:30 PM ET
Saturday, April 10
CBS – 3:30 – 7:00 PM ET
Sirius XM radio – 2:00 PM – 7:00 PM ET
Sunday, April 11
CBS – 2:00 PM – 7:00 PM ET
Sirius XM radio – 2:00 PM – 7:00 PM ET
UK
Wednesday, April 7
Par 3 tournament
2000-2200, BBC Red Button/online
Thursday, April 8
Amen Corner: 1545-2215, BBC Red Button/BBC HD/online
Live: 2100-2230, BBC Two/BBC HD/Radio 5 live/online
Live: 2235-0040, BBC Two/BBC HD/Radio 5 live/online
Friday, April 9
Amen Corner: 1840-2200, BBC Red Button/online
Live: 2100-2230, BBC Two/BBC HD/Radio 5 live/online
Live: 2235-0040, BBC Two/BBC HD/Radio 5 live/online
Saturday, April 10
Amen Corner: 1840-2200, BBC Red Button/online
Live: 2030-0000, BBC Two/BBC HD/Radio 5 live/online
Sunday, April 11
Live: 1815-2300, BBC Red Button/online
Live: 1900-0000, BBC Two/BBC HD/Radio 5 live/online