UK Today News: China's Earthquake death toll reaches 1944: 3 rescued after being trapped for 5 days
A 4 year old and an old woman were trapped under a collapsed house due to China's earthquake, were kept alive by using bamboo poles to push water and rice bowls for almost a week by their relatives, which also includes a third person trapped under his house when it toppled near the hillside, only till the rescue team showed up.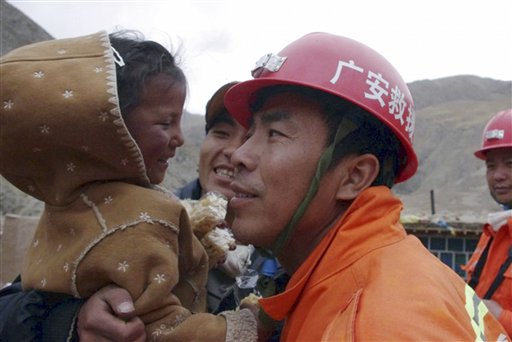 See Pic Above: Four-year-old girl Cairen Baji is carried by a rescue worker.

The survivors – Wujian Cuomao-68 and Cairen Baji-4 were trapped under the rubble of their own house in a village 13 kilometers from the hardest hit town of Jiegu.
Today the death toll after the quake has tolled up to 1944 and with 12100 injured. Efforts are on to help rebuilding the tens of thousands of homeless and stranded in the elevated land of Tibet where temperatures were as low as -27 deg.C.