UK Today News: Oil Rig: Gulf of Mexico Oil Spill is Oozing at 1000 Barrels a Day
The US Coast Guard and BP's official said that the giant rig that sunk last week is spilling oil into the sea at an average of a 1000 barrels a day. Its known by now that Oil is leaking from two places and is oozing fast, officials said, that its now BP's work to clean up the mess.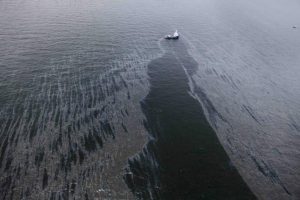 See Pic above shows oil spill

This Oil spill is very grievous and is leaking very fast, by now the oil has spread out in an are of around 400 sq. miles in the gulf, just 45 kilometers away from the coast. The rig venture was shared by BP and Transocean, so the clean up would be shared by them.
Now for the missing rig workers, the chance of they being alive looks very slim and if they are dead by any chance, this would prove out to be the worst oil rig accident since 1968, where 11 were dead and 20 were injured. The Coast Guard told that, the rig – Deep Water Horizon was found resting at the base of the gulf about 1500 meters below.