UK Today News: Californian Teacher Melissa Huckaby Pleads Guilty For Killing And Raping 8 year Old Sandra Cantu
Melissa Huckaby : A Sunday school teacher from California was accused of killing an 8 year old girl who was her daughter's playmate.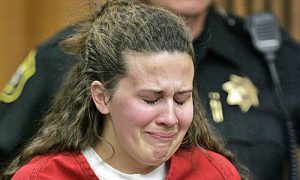 She pleaded guilty of kidnapping, raping and killing her then stuffing her dead body in a suitcase. Melissa Huckaby aged 29, accused of the act, entered the guilty plea with San Joaquin County Superior Court where she is charged of first degree murder and special motive of kidnapping.
According to the deals with the prosecutors, all her charges including rape and lewd lascivious conduct with a child below 14 were dropped. Initial charges without dropping the supplement charges would have rewarded her death penalty.
Her trial is to begin in October. She was sentenced to 25 years of imprisonment without the possibility of parole during her sentence on 14th June.
According to the local authorities, Huckaby killed Sandra Cantu, aged just 8 in March 2009. After she was missing the local authorities went on search, 10 days later they find her body stuffed in a suitcase in an irrigation pond where both the child and accused lived. The little girl was last seen on a surveillance camera some 5 doors away from the Huckaby's residence.