UK Today News: Pac-Man 30th Anniversary Celebrated With Google Pac- Man Doodle
Pacman free online: Google Pacman, Pac-Man 30th Anniversary: Pac-Man celebrates the 30th anniversary of it's video arcade game , and to commemorate the occasion, internet giant Google has revealed an interactive doodle in the form of a Pac-Man game, which happens to be it's first ever interactive doodle.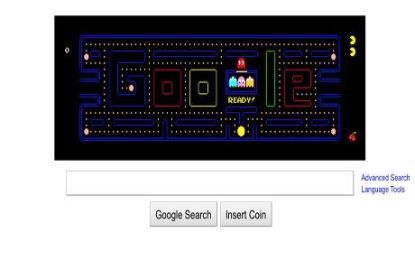 Back in 1980, the Pac-Man game was released on May 22 in Japan by Namco Bandai Games. The game was formally called Puck Man. It was later named Pac-Man and it debuted in the U.S. in October 1980, and sold more than 100,000 units in the first year of production.
Reports say that Pac-man is listed by Guinness World Records as the "world's most successful coin-operated game."
Google has made the doodle in such a way, where there is a "Google Search" option as well as an "Insert Coin" option on the Google.com page. All users need to do is to click on the "insert coin" button to start the Pac-man game.
Congratulations Pac-man!