UK Today News: Gulf Oil Spill 2010 – BP's Gulf Of Mexico Oil Spill Worse Than Exxon Valdez Disaster
Oil Spill Live Feed, Gulf of Mexico Oil Spill, Gulf Coast Spill, BP Oil Spill, BP Top Kill: US President Barack Obama has said that he will do all he can to make sure that the oil industry is cleant up, after the worst ever oil Spill in US history took place this year.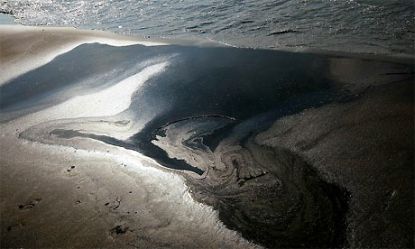 Photo Credits: Getty Images
BP had revealed that almost 5,000 barrels of oil has been spilling out into the Gulf of Mexico every day, ever since the Deepwater Horizon oil rig explosion took place – which killed 11 people.
However, reports say that these figures are wrong, and that 12,000 to 25,000 barrels per day has been spilling out into the sea.
The Gulf of Mexico Oil disaster has turned out to be bigger than the 1989 Exxon Valdez Oil Spill in Alaska, thereby making it the worst US oil spill ever!
The oil spill has spread across many areas and has damaged the flora and fauna of the Gulf area.
BP is currently working on it's "Top Kill" plan, in an attempt to plug the leaking oil well in the Gulf of Mexico.