UK Today News: Bangladesh Fire – 109 Dead, Dozens Injured in Fire in Dhaka, Bangladesh
Bangladesh Fire, Bangladesh Inferno: A fire in the capital of Bangladesh has killed 109 people after an explosion of an electric transformer engulfed a plastic factory and four nearby buildings in Dhaka on Thursday night, fire officials said.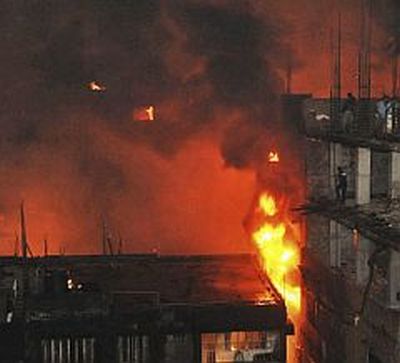 A burning building in Dhaka, Bangladesh
The blaze broke out about 10.30 p.m. local time Thursday (12.30 p.m. ET), and reports say that flames reached as high as 300 feet into the sky, as the Bangladeshi firefighters struggled to get the blaze under control. 50 people have been critically injured.
Nazrul Islam, a fire official said that the blaze began when an electric transformer exploded, and it then set fire to a three-story residential building in the Najirabazar area of old Dhaka.
Bangladesh's Prime Minister Sheikh Hasina said she was shocked over the tragedy and the great loss of life and has made a pledge to support the families of the victims of the blaze.
Abul Kalam Azad, Bangladeshi Prime Minister's Press Secretary, told the media on Friday that "the government decided to observe mourning day Saturday in commemoration of the fire victims."