UK Today News: Slovenia vs Algeria – Slovenia Beat Algeria 1-0 On Day 3 Of The World Cup
Slovenia vs Algeria, Algeria vs Slovenia: The FIFA World Cup saw the Slovenia vs Algeria match opening Day 3 of the the 2010 soccer World Cup. The Slovenia vs Algeria match was played at Polokwane, South Africa and saw Slovenia beating Algeria 1-0 to win the Group C match on Sunday.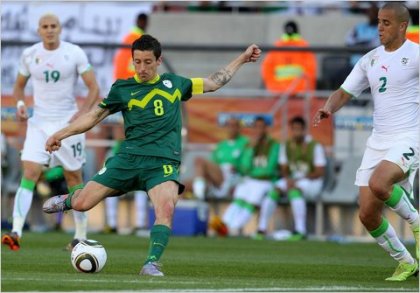 Slovenia's Robert Koren scores during the Slovenia vs Algeria match on Sunday. Pic Courtesy: Cameron Spencer/Getty Images
Slovenia's Robert Koren scored a goal in the 79th minute on Sunday, when the Slovenian captain kicked a long-range shot that the Algeria goalkeeper Fawzi Chaouchi failed to judge correctly, resulting in the first and only goal for Slovenia. The 1-0 win over Algeria places Slovenia at the top of Group C of the World Cup, ahead of the United States and England.
Another big highlight of the match was when Algerian substitute Abdelkader Ghezzal was given a red card in the 72nd minute (his second yellow card) for handling the ball inside the Slovenian penalty area.
Slovenia will play the U.S. next while Algeria will play England.