UK Today News: Germany vs Australia 2010 World Cup Match – Germany's Soccer Team Beats Australia 4-0
Germany vs Australia 2010, Germany Australia World Cup, Germany Soccer Team: In the Germany vs Australia World Cup match today, June 13 2010, Germany beat Australia 4-0 in a very exciting Group D match in Durban, South Africa.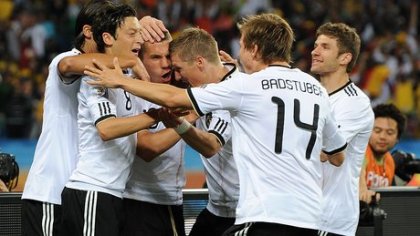 The German football team celebrates a goal
Germany took the lead in the first half with Lukas Podolski and Miroslav Klose hitting some brilliant goals to give Germany the much needed edge, in the first Group D match of the 2010 FIFA World Cup.
Though Australia seemed to be playing some good football in the beginning of the second half, it was Germany's Muller who scored an amazing goal followed by German substitute Cacau's goal in the 69th minute, taking Germany to 4 goals.
Australia's Tim Cahill was given a straight red card, leaving Australia to play Germany with only 10 men.