UK Today News: US Open Golf TV Schedule – ESPN, NBC Broadcast US Open Live From Pebble Beach Golf Links
US Open Golf TV Schedule : The US Open Golf Tournament 2010 has begun and with all the football fever around everywhere on TV, die hard golf fans are looking for the US open golf TV schedule, so that they can catch the US open from Pebble Beach Golf Links live on TV.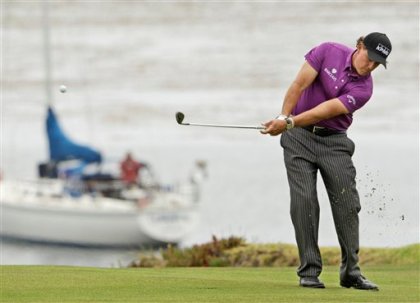 Phil Mickelson in action (AP)
The 2010 US Open Golf TV Schedule for the remaining days are as follows: (usopen)
June 19 – ESPN 1-3p.m
NBC 4:30-11 p.m.
June 20 – NBC 3-9 p.m.
*June 21 – ESPN Noon-2 p.m.
NBC2 p.m. to conclusion
*If needed, an 18-hole playoff will be scheduled
Reports say that Phil Mickelson is T2 with a score of one under par on June 19. While Tiger Woods is T 25 with four over par and Lee Westwood is T 16 with three under par.