UK Today News: Portugal Make The Koreans Cry By Pelting Them With 7 goals – Portugal vs Korea Highlighs Of The Game
The group of death was what the group was called which Portugal was placed in, but they have made a great escape from this group by pelting the Koreans with 7 goals, something remarkable and rare to see in soccer.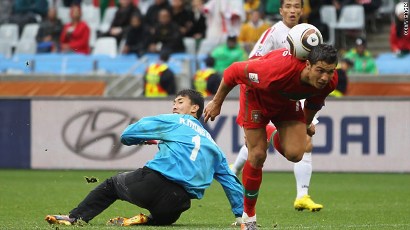 Cristiano Rolando with the Ball
Picture Credits-CNN
It was scheduled to be a rematch of the famous clash between these countries that faced each other back in 1966.
The showers of the goals was started by Raul Meireles in the 29th minute, as the Koreans were showing the fighting spirit as they had done with Brazil.
Then everything was like a domino effect as goals just started to flow in. Goal scorers included, Simao Sabrosa, Hugo Almeida, and Tiago who had scored in the span of just eight minutes, shocking the soccer world. Hard to even believe that one of the goals was even scored by a substitute Liedson, which seemed to be something unbelievable.
Two more goals were scored mercilessly by Captain Cristiano Rolando and Tiago, making Portugal win with the biggest margin in any match of the tournament.
According to coach Quiroz, he states that, this win was really special and the way they have played was unbelievable but this will not be enough to overcome the team Brazil, if they score any goals in the match against them, it would raise a question on their reputation.
So in the match with Brazil, they have to show a very different attitude against them on the field.