UK Today News: Italy vs Slovakia – FIFA World Cup Group F Match Sees Defending Champions Italy's Exit
Italy vs Slovakia, World Cup Group F: Defending champions Italy are out of the 2010 FIFA World Cup. Debutants Slovakia, beat Italy 3-2 in the Group F match and Italy's coach Marcello Lippi took full responsibility for his team's World Cup group exit on Thursday.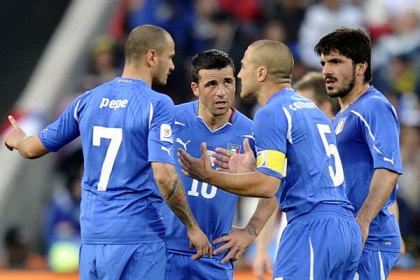 The two goals from Slovakia's Robert Vittek, and a third one from substitute Kapil Kopunek put an end to Italy's hope of advancing in the 2010 FIFA World Cup. Italy has joined former world champions and last world cup's finalist France in exiting the football world cup.
After the shocking defeat, Italy's coach Marcello Lippi told reporters, "I take all responsibility. I haven't prepared this team well enough. There are no excuses because when a team comes to a match as important as tonight's with terror in their legs, their heads and their hearts, and don't manage to express themselves, it means that the coach hasn't prepared them in the right way"
He added: "I didn't think we could win the World Cup but I though we would do better."
This is indeed a shocker for Italy because their history at the World Cup shows that they have made it to finals, semi-finals and quarter finals before exiting the the previous 10 World Cups.