UK Today News: Ray's Hell Burger In Arlington Sees Presidents Obama And Medvedev Munching On Cheese Burgers
Ray's Hell Burger: US President Barack Obama took his Russian counterpart Dmitry Medvedev to a surprise American lunch at an Arlington eatery called Ray's Hell Burger on Thursday, just before the two returned to the White House for a news conference.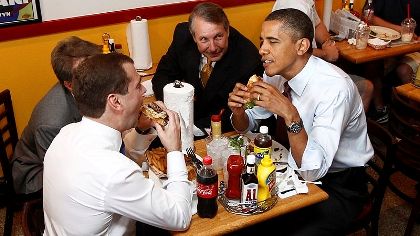 US President Barack Obama and Russian President Dmitry Medvedev eating at Ray's Hell Burger (Pic: Kevin Lamarque, Reuters)
According to reports, the American President ate a traditional cheese burger, while the Russian President was seen spicing up his burger with some jalapenos, onions and mushrooms. And that's not all of it, because both the Presidents even shared an order of fries.
The Presidents were seen sitting together on a small table in the corner at Ray's Hell Burger, and munched away their lunch, while everyone's eyes were peeled on the two.
Russian President Medvedev is in the US for meetings with US President Obama before the two attend the meeting of the G20 nations in Canada.