UK Today News: South Korea Bus Crash Kills 12 Passengers After Plunging Off Bridge
A bus slipped down from a bridge near the main international airport in Seoul, the capital of South Korea, taking away the lives of 12 people today.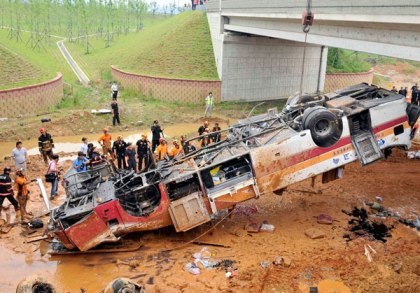 Reports say that almost the same number of people have been left wounded as the fall was about 30 ft from the bridge and landed on a construction site below.
The bus is said to have just left the Songdo district in Incheon Cit,y for Incheon international airport 20kms away from the mishap place.
Few reports mentioned that the bus struck a guard rail while trying to avoid a parked car.
The bridge is a link between Incheon and the airport, which is 70km west of Seoul, on Yeongjong island.
There is no confirmed reports of the the nationalities of the passengers who were killed in the misshap.