UK Today News: Rafael Nadal Looks Forward To Pocket The US Open

Rafael Nadal on Sunday proved to the whole world, why he is the no.1 tennis player in the world. After a 2 hours and 13 minutes of play against Tomas Berdych, Rafael overpowered him and won the Wimbledon for the second time.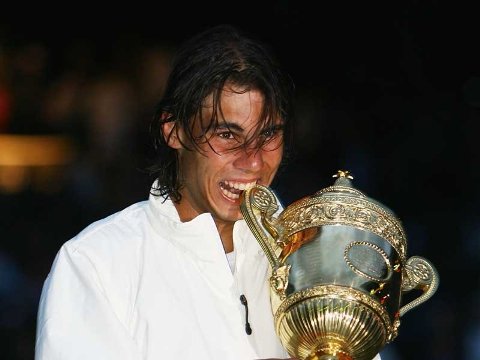 Rafael Nadal with the Wimbledon
Rafael had a game of 6-3, 7-5, 6-4 which was finally awarded by winning the Wimbledon which was his eighth major title for the 24 year old.
Even though Nadal has kissed the major trophies eight times, he has still not gained one title, that is the US Open title. Nadal stated that he would be working really hard to win the US Open, as it is one his main goals in his career.
According to the Tennis historian, Bud Collins, for Rafael to conquer the US title, he needs to reschedule his games. He should look at how the Williams sisters play, they try to play less frequently and thats how they are fit enough to win titles. Collins stated that players like Nadal need to concentrate on their knees, and take enough rest to play better.
Rafael has clearly stated that he would be playing the US Open this year with better, healthier and fit body. Rafael has had health issues in the past as he had knee problems during 2007 and abdominal problem in 2008.
When asked about his health, Nadal spoke saying, that he needing to do treatment on his knees right now, as he needs to get ready for the US Open coming up later this year.