UK Today News: Bomb Blasts Take Place At Iranian Mosque, 20 Killed And 100 Wounded
It is estimated that at least 20 people have died and more than 100 people have been wounded, after two suicide bomb attacks took place out the Mosque in the south-eastern part of Iran.
Among the dead, there were the Iran's elite Revolutionary Guards when the blasts took place out side the Mosque in Zahedan, which is the capital of Sistan-Baluchistan province.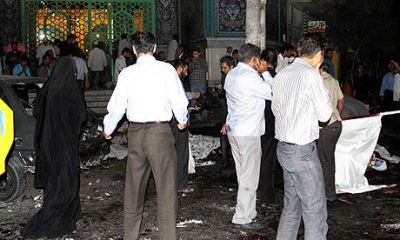 The officials at the site have reported that the first blast took place out side the check post, where the Guards were posted. The henious act has been taken as the responsibilty of the Sunni group Jundullah terrorist group, self proclaimed as the Soldiers of God. This group has already been accused of attacks that have been taken place in the city of Teheran previously.
The Iranian government states, that this group has been operating with the help of British, US and Pakistani support. They also claim that this very group has links with the Al-Qaeda.
The reason the group has reacted is because of the Sunni Baluch community which is in the South easters part of the Iran, has been discriminated and outcasted by the government due to the Shia majority and regime in the country.