UK Today News: 65 Dead and 200 Injured – Train Accident In West Bengal, India

Two trains in the state of West Bengal in India collided which left around 65 people dead and more than around 200 others injured, the railways Police confirmed. This Train accident in West Bengal is the second railway incident that has claimed several lives this month.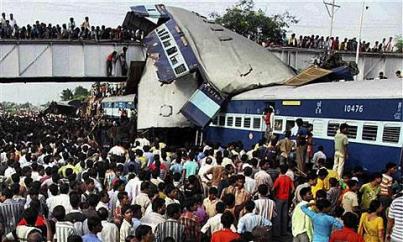 Photo Credits AP
The names of the two train that collided are Uttar Banga Express and Bhagalpur-Ranchi Vananchal Express. The Bhagalpur-Ranchi Vananchal Express was stationary while the Uttar Banga Express rammed into it at Sainthia station in district Birbhum in the state West Bengal.
The Railway Minister of India Mamata Banerjee after the incident said,
"Accidents are common on India's sprawling rail network, one of the world's largest, with most blamed on poor maintenance."
"Human lives are very important." The minister said: "We are really sorry for this. Sorry to see two incidents take place in West Bengal in two months."
"Whatever happens is not (a) casual thing. We will take necessary action. We will take strong steps whoever is behind this."
Eastern Railway has two helplines numbers opened (numbers 23503537 and 23503535)