UK Today News: Plane Crash In Pakistan Kills 45 – Airblue Airbus 321 Crashes In Hill Range
The Pakistani government officials have stated that at least 45 bodies have been recovered from the plane crash that has taken place in the surrounding hill range of Islamabad. The Capital Development Authority spokesman stated that authorities are working on to search for more bodies of the dead and any survivors. It is still not clear how the Airblue plane crashed on Wednesday.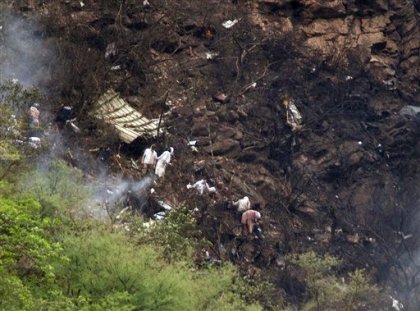 Pakistan plane crash (Pic: AP)
The Airblue plane was carrying 152 people on board on Wednesday, from Karachi. The flight was scheduled for a two hour flight from Karachi to Islamabad, but Islamabad had been experiencing heavy rains for quite a few days. The flight was on time but was facing difficulty while landing in Islamabad.
Reports say that bad weather was causing the plane problems in landing, and then it suddenly lost contact from the control tower. Later authorities reported that the plane had crashed in the near by hill range. The model was an Airbus 321, flight number ED202