UK Today News: Chelsea Clinton Wedding Photos Revealed – Clinton Marries Marc Mezvinsky Along  New York's Hudson River
Chelsea Clinton Wedding Photos, Pictures: Chelsea Clinton, daughter of former US President bill Clinton, got married to her long-time boyfriend, Marc Mezvinsky, at the Astor Courts estate on New York's Hudson River.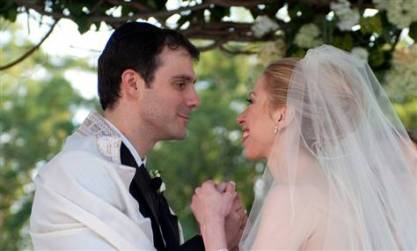 Chelsea Clinton and Marc Mezvinsky (Pic Courtesy: Genevieve De Manio/ Reuters)
The 30 year old bride reportedly wore a beautiful Vera Wang strapless white wedding gown. Clinton was walked down the aisle by her famous father, and people from around the world are waiting to get glimpses of Chelsea Clinton's wedding photos.
Chelsea is a Methodist Christian, and Marc is a Conservative Jew, and the wedding was reported to be estimated between $ 3 million and $5 million.
Bill Clinton and his wife Hillary Clinton announced: "Today, we watched with great pride and overwhelming emotion as Chelsea and Marc wed in a beautiful ceremony at Astor Courts, surrounded by family and their close friends."
Sources say that actor Ted Danson, famous fashion designer Vera Wang were among the guests at Chelsea Clinton's laving weekend wedding.