UK Today News: Leh Flash Floods Claim 145 Lives, 500 Still Missing – Tourists Stranded In Ladakh
The cloud burst that took place on Friday in Leh, in the Himalayan region of Ladakh, has killed around 145 people and left around 500 people missing, as reported by an Indian news agency on Monday.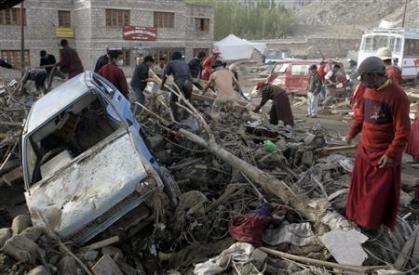 Photo Credit: REUTERS/Yawar Nazir
Reports state that rescue workers in India are still searching for the more than 500 people missing who went missing after a major cloud burst coupled with flash floods and landslides slashed Leh late last week.
The Leh landslides took the region by surprise on Friday after widespread rainfall caused widespread damage to unsuspecting residents, and cut electricity lines and uprooted trees.
The Indian army officials state that more than 25,000 people have been affected by the flash floods, and there are already 7,000 soldiers working on rebuilding the destroyed roads and bridges.
Reports also state that many tourists who have come to Ladakh are stranded due to the destruction of roads, and since relief work in underway.